According to a report by the Scelles Foundation published in June, « two thirds of prostitution activities go through new technologies ». While social networks have advantages for some sex workers, they are also a new recruiting ground for pimps.
#Escort, #Hot… On social networks, suggestive photos and explicit ads appear when the right keywords are typed in the search bar. « Two-thirds of prostitution activities go through new technologies », notes the Scelles Foundation, which analyzes the « prostitution system » in a report published last June.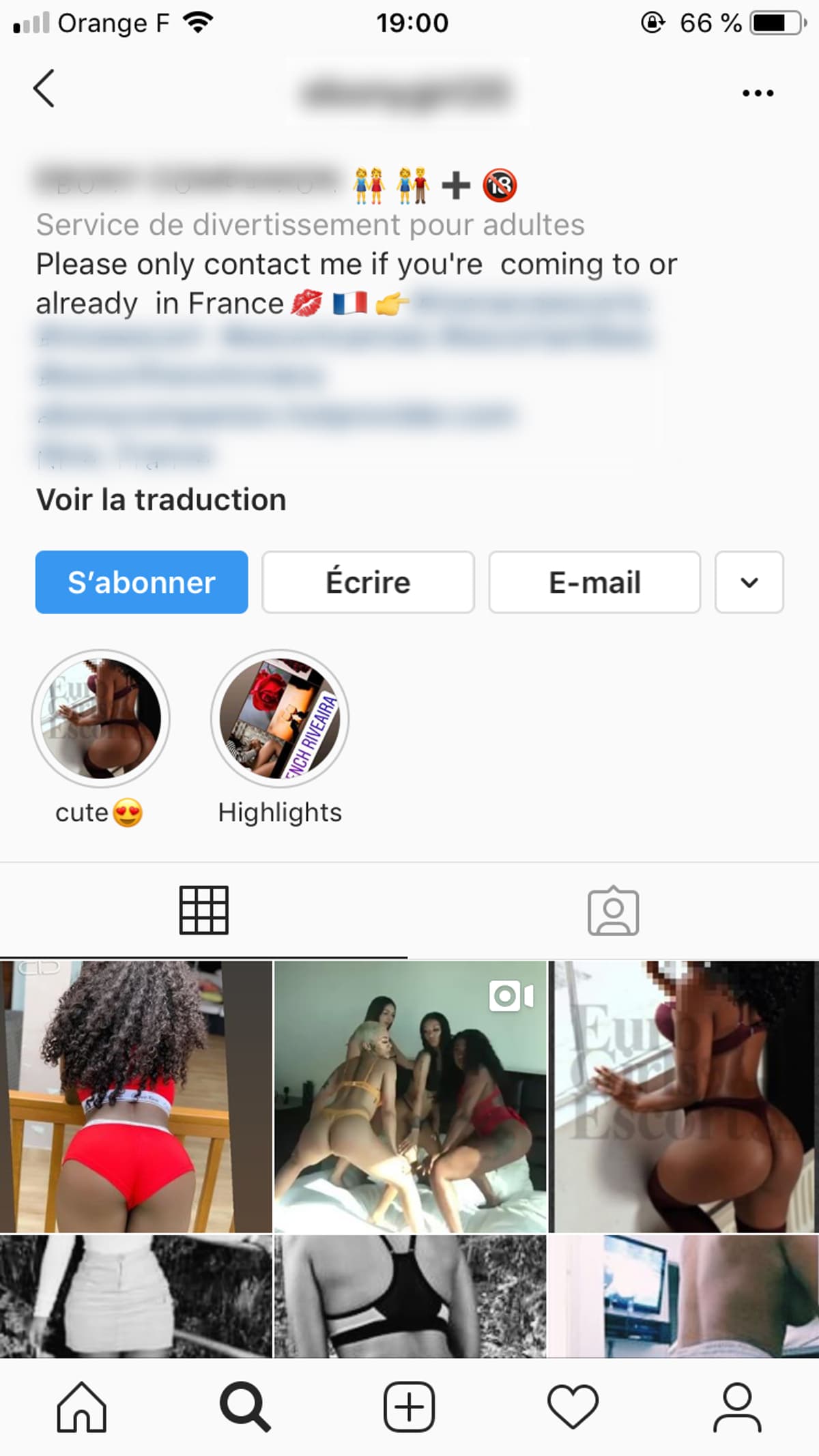 Under the hashtag « escort », the services of young girls from all walks of life appear on Instagram. Some mention with emojis that these ads are reserved for people over 18, others enter their phone number directly to obtain payment for their offers by bank transfer.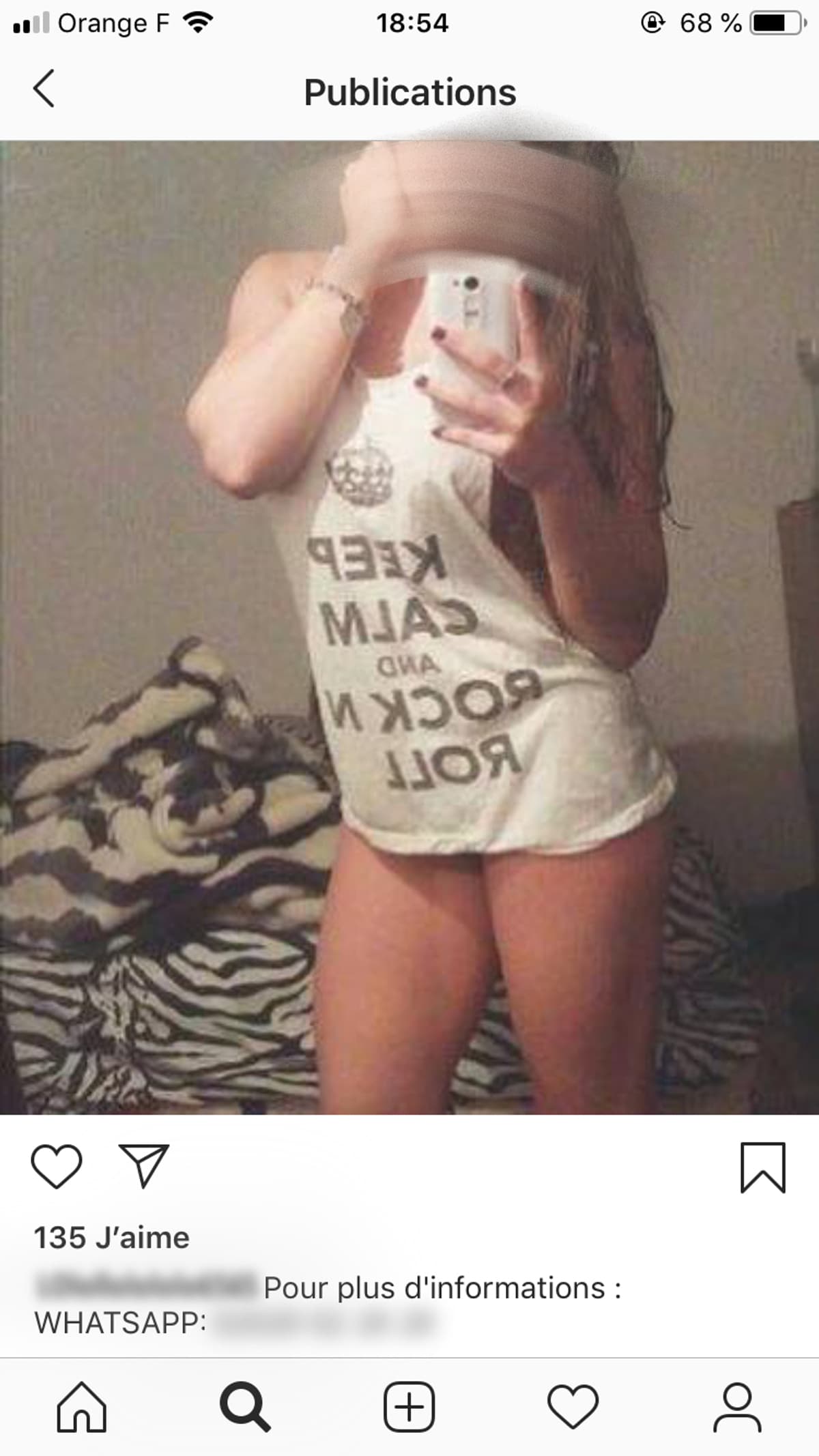 « Since young people have been consuming social networks en masse, prostitution has exploded on these platforms », notes Laurine Herivan from the association with BFMTV.com Action Team Against Pimping (EACP). However, this phenomenon is not new.

Jimmy Paradis, representative of the Sex Work Union (Strass) in Occitania who fights for the rights of sex workers, prostituted himself when he was 14 years old:
« At the time, we did not use social networks but the Minitel. » With each appearance of a new means of communication, prostitution was able to establish itself there. « At Strass, a majority of sex workers use the Internet with dating sites and Instagram, Snapchat, Facebook. I've even seen some on Linkedin, with a CV to boot », illustrates Jimmy Paradis.

Young girls may « not be aware that it is prostitution »
Getting into prostitution via social media is usually a long process that starts with sending flirtatious photos or videos and then nude images. An exchange notably driven by « the Zahia affair », notes the member of EACP. « Girls aged 10 to 15 wanted to do like her, dazzled by the media echo around this former prostitute. »
She continues: « Everything happens in a very hidden way. After the photo phase, they can fall into prostitution either by force, because their interlocutor blackmails them with the nude images sent. Either voluntarily, but without being aware that it is indeed prostitution. »

Not going through the street indeed gives the illusion of a « less official approach. They think that if they do not solicit on the public highway, it is less serious », underlines Laurine Herivan. For Jimmy Paradis, this dematerialization of prostitution is partly due to the 2016 law on the criminalization of clients, validated by the Constitutional Council in February 2019.
« By exercising via the Internet, sex workers are no longer bothered by the police for soliciting on the public highway. And customers become invisible, by responding to ephemeral offers on Snapchat for example where the it is easy to find offers for passes at 100 euros an hour. And 24 hours later, the story has disappeared ».

Some sex workers may feel safe behind their screen, as if the digital barrier gives them the freedom to choose the right client. However « it is always a mistake to believe that there can be security in prostitution », warns Sandrine Goldschmidt, representative of the abolitionist association (against prostitution) The movement of the nest.
« Going through social networks, sex workers very often receive their clients at home. But you never know how they may react within these walls. That's why prostitutes are now increasingly calling on sex workers. 'vigils'. But that amounts to pimping », also deplores the rhinestone representative whose opinions often diverge from those of the Nest.

New mode of recruitment for pimps
Sandrine Goldschmidt particularly warns about the activity of pimps who find « a real breeding ground » on social networks. From experience, she notices that it is easier for them to spot « vulnerable » young girls thanks to their Instagram, Facebook or Snapchat profiles.
« When they have found their prey, they engage in conversation, establish a relationship of trust to achieve their ends. »

But in addition to « professional » pimps who know how to spot and build their networks, the representative of the Mouvement du nid also denounces the practice of « lover boys »: boys who pay for their girlfriend via the Internet.
Blinded by their feelings, the young girls agree to have paid relations with other teenagers, on the orders of their companion.
« Modes of pimping are constantly evolving and adapting », comments Laurine Herivan who mentions the dismantling, in May, of a prostitution ring run by young men aged 18 to 23. They « directed their 'employees', recruited via the Internet, like business leaders. On social networks, they managed their photos, their conversations and fixed appointments ».

Going through an electronic network, an aggravating circumstance
To dismantle such networks, the investigations are « long », « complicated » and require « a lot of resources » such as spinning mills and the operation of video surveillance, explains to the Parisian Raphaëlle Wach, Deputy Prosecutor of Créteil.
In 2016 as in 2017, 43 individuals were sentenced for acts of aggravated procuring, mainly in Paris, Versailles and Lyon, the Chancellery told BFMTV.com. Going through an « electronic communication network » has become an aggravating circumstance for pimping, increasing the penalty from 7 to 10 years in prison.
Faced with this growing phenomenon, witnesses also have the possibility of alerting the authorities. through the Pharos platform. They transmit reports of illegal content or behavior with which they are confronted. But for lawyer Philippe Meilhac, a pitfall remains:
« The platform offers to tick between facts of pedophilia and child pornography, incitement to racial hatred, terrorism and apology for terrorism, fraud… But no box is provided for pimping or human trafficking « , thus preventing the reporting of such facts.

Make the hosts responsible
For their part, social networks like Instagram are trying to stem the spread of illegal content.
« Prostitution, escort services, pornography and child pornography go against our policies, any related content will be removed. When it seems necessary to us, we refer to the authorities », explains us- we internally.

The problem of the responsibility of the hosts nevertheless remains for Philippe Meilhac. The latter should « be subject to an obligation of surveillance to better regulate the content », he believes.
Far from these considerations, Jimmy Paradis has a much clearer position. According to him, only the legalization of prostitution could guarantee the rights of sex workers and prevent « adolescents ending up prostituting themselves on Instagram. Without law, prostitution and its excesses are trivialized ».

when social networks boost crime
From Facebook to Grindr, social networks have become the playground of a new delinquency that has nothing virtual about it. Marginal drift or widespread phenomenon? BFMTV.com presents in five episodes different faces of this digital crime. Here is the fourth part.
Amber Lepoivre and Esther Paolini